By Janaina Gilsoul and Pedro Ferreira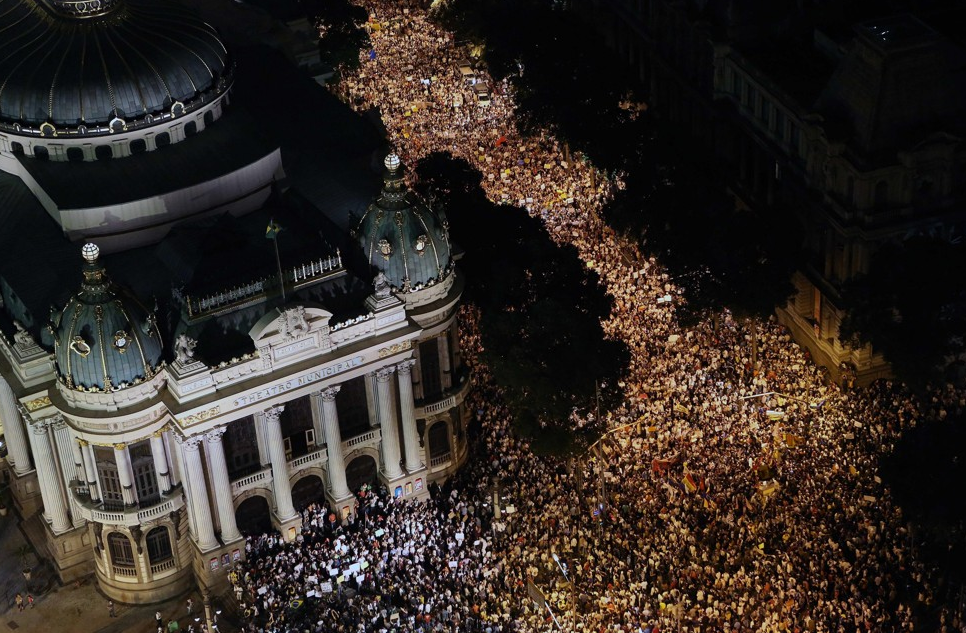 A movement which started in São Paulo on June 06 over a 20 centavos (nine cents) increase in the city's bus fare has inspired demonstrations against corruption nationwide. A total of 1,405,000 Brazilians flooded the streets of several major cities such as Fortaleza, Rio de Janeiro, and Brasília.

The backdrop for the first protests was São Paulo where its high fare for public transportation is the 8th most expensive in the world. Globo, Brazil's biggest newspaper, illustrated this by stating that while New York citizens work an average of 6.33 minutes to pay their fares, São Paulo citizens are working 13.89 minutes. The movement began with the protests of a student led-group, Public Fare Free.

On June 13th the demonstrations became national news, as dramatic scenes of police troops making a barricade in order to prevent protesters from occupying Avenida Paulista (one of the country's major business sites), were displayed on Brazil's most watched news programs. In the next four days, 270,000 people went to the streets in approximately thirty cities. As a result bus fares were restored to their original price across the nation. On June 19th, President Dilma Rouseff, made a national address in response to the demonstrations, and assured demonstrators that their voices would be heard.

A poll was also conducted on June 20th by IBOPE in seven different states and Brasilia. It showed that out of the 2002 participants, 53.7% were protesting for public transportation, 49% against corruption, 40.5% for fare reduction, 36.7% for better public health, 30.9% against cost spent for World Cup, 29.8% for a better public educational system, 11.9% against Constitutional amendment PEC37, 11.4% for a political system change, and finally 4.1% against police censure.
After June 20th, protests continued all over the Country, in major and smaller cities. As a result Rouseff proposed a "National Pact" between the government and the pacifist demonstrators. The National Pact is based on five major proposals: a political reform; tougher punishments on political corruption; investments of 50 billion Reais (US$ 23 billion) in mobility transportation; more investments in health care; earmarking of 100% of petroleum royalties and 50% of income source from pre-layer salt to education (depending on Congress approval). Since this pact, the House of Representatives has rejected the Constitutional amendment PEC37 (which would have curbed prosecutors´ power to investigate), more rigid laws on political corruption were created, and a proposal to earmark 100% of petroleum royalties to education and health care was approved. These reforms have appeased the majority however a few people, continue going to the streets to manifest their opinion. Though the protests are smaller in scale, they are proof that Brazil is now a stronger democracy with citizens who seem to be more interested in the country's welfare.
Foto: EPA/Marcelo Sayão